Another Writer's Workshop post from...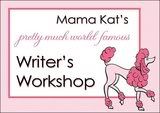 About Me
I don't have an About Me page because, well, I have no idea what to write about myself.
That was sort of the whole reason for the blog in the first place.
My name is Dawn. I started blogging in an attempt to figure out where I'm headed, and how to get there from here.
Why this Blog name?
Dawn means 'a new day' in most dictionaries.
My middle name means 'reborn'.
So my name means 'A new day reborn', which is essentially what a Dawning is.
Every new day is a chance to start over and do it right...
I know.
Sometimes I think too much.
My Family?
I am married.
With children.
Six of them to be exact.
Some are grown.
Some are grown and still live at home.
Some just think they are grown...
and they have to live at home because, well, they're not grown.
(yes this is not a current picture of the kids... but they are still this cute)
Personal Info... at least the public kind of personal
I enjoy movies and sunsets and walks on the beach...
Tequila and kettle corn and frogmore stew...
Time with my family and friends...
A warm summer day spent on the deck by the pool with a good book...
I
HATE
Winter and the cold and Snobby people...
I
LOVE
my husband and children and grand child and Summer weather...
And cheese pretzel Combos and Twix.
My
HOBBIES
include, but are not limited to:
Crocheting and designing my own patterns to crochet and knit
Painting... the Donna Dewberry Tole painting kind, not the 'this room needs a new color' kind, although I have been known to do that, on a whim, on occasion.
Making jewelry... gemstones and sterling silver all sparkly and girly?
I just can't resist!
Textile crafts - making purses and bags and embellished clothes, like in the fancy magazines, that I can't afford but love... that I always gift away.
Paper crafts... cards, stationary, book marks and don't tell anyone but, scrapbooking- on a very small scale...
What?
My sister is a
Stampin'Up
demonstrator... gotta support your family, right?
I
USED
to breed and raise several small
parrot species like Peach Faced Lovebirds, Cockatiels and Parrotlets... you can see my aviary website
HERE
Yes, I am a bit of a Geek... I mean, Genetics was my hobby!
I have been a nurse for 26 years. Not because I am that old, but because I started when I was so very young...
And I Write.
Stories for my children...
Poems...
Short stories...
My Blog...
And perhaps a novel... if I ever find the time and courage to finish it.
These are just some of the things that I do and like.
They are not
Who I Am
, but perhaps, in some small way, give my readers a better picture of the person behind the words and wit and sarcasm.
Without having to give away any state secrets or divulge my darkest desires that is.